Wiki Targeted (Entertainment)
Play Sound
4362 Wisteria Lane, is an address of Wisteria Lane,
The house was originally owned by Edie Britt until her death in 2014 (Season 5). Renee Perry then moved into the house in 2016 (Season 7).
The House was originally a yellow colonial style house, until it was burned down by Susan in the Pilot episode. It was then completely remodeled and rebuilt for Season 2 onwards. It is now a pink weatherboard house with brownstone accents.
It is not known whether Renee still lives in this house or if she moved in with her new husband Ben.
Current Residents -
Previous Residents -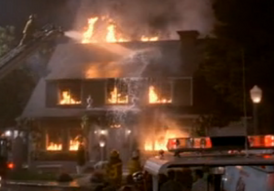 History
Season 1
Edie lived there Pre-series. However, it was burned down by Susan Mayer during the Pilot episode, and was then redesigned and rebuilt for season 2.
Season 2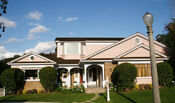 After the house is rebuilt, Edie returns to living there.
Season 3
Edie continues to reside there during Season 3 and is later joined by her nephew, Austin McCann.
Season 4
After disrupting several of the residents' lives on Wisteria Lane, the housewives shun Edie and she subsequently leases her house and leaves Wisteria Lane.
Season 5
Edie and her new husband, Dave Williams, return to Wisteria Lane and buy the new tenant out of his lease and continue to live there. They live there for the majority of the season. However, Edie is killed and Dave is taken into a mental asylum, leaving the house without an owner.
Season 6
- Another Desperate Housewife At some point, Stephanie and Lance lived here. After Lance's death, it is assumed that Stephanie sold and moved off the street.
Season 7
Lynette Scavo's old college friend, Renee Perry, rents the home during Season 7 and has it remodeled inside.
Behind the Scenes -
This house has a complete first floor interior (Kitchen, Dining, Living-room, Bar), all second floor interior shots (Bedrooms, Bathrooms) are filmed in a soundstage on the studio.
It is the only house set on the lane to have running water
For unknown reasons, the numbers on the door of Renee's house were changed to 4359. It is currently unknown why this change occurred, but it has been like this since they remodeled the house for Renee in the Halloween episode of the seventh season.
Community content is available under
CC-BY-SA
unless otherwise noted.