Dr. Albert Goldfine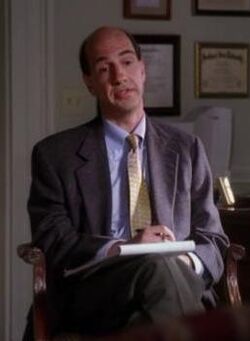 Profession
Psychological Therapist
Marriage Counselor
Dr. Albert Goldfine was the most accomplished marriage councilor in the city. He had dealt with problems ranging from substance abuse, to infidelity, to domestic violence. Yes, Dr. Goldfine had thought he'd seen it all, and then he met the Van de Kamps.

Mary Alice Young
Dr. Albert Goldfine is known as the de facto marriage counselor in Fairview. His first appearance was in the series second episode, wherein Bree and Rex underwent their marriage counseling in an effort to repair their broken marriage. 
Overview
Season One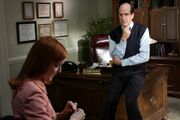 During the whole appointment, Bree engaged in small talk with Dr. Goldfine and repeatably focuses on his jacket the entire time, due to her obsessive compulsive mannerisms.
She returns to his office, fixes his jacket, and actually presses forth with a full appointment.
Goldfine, slightly seduced by her domestic ways, asks Rex the following session, "Regardless of her flaws, have you ever stopped and said thank you for all she does for you around the house?"
Dr. Goldfine appears again in the next episode, "Pretty Little Picture", where Bree sees a session recording tape labeled with Mary Alice's name. Bree steals it and puts it in her purse, and later shares it with the other housewives.
Dr. Goldfine makes an appearance in the fourteenth episode, "
Love is in the Air
", where he encourages Bree to finally ask Rex about his true sexual feelings on domination.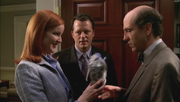 Season Two
He returned in season two to give Bree advice in the aftermath of Rex's death and also to give her advice on George Williams. However, George found out that the doctor had been giving Bree advice to take their relationship slowly and promptly stalked him on his exercise path. George then beat up Dr. Goldfine and threw him over a bridge; it was found out later that he had survived. Dr. Goldfine mentioned to Bree that his attacker had a blue bike. Bree had just seen George with a blue bike earlier that day. This prompts Bree to connect everything together, and she discovers the depths of George's mad obsession.
Community content is available under
CC-BY-SA
unless otherwise noted.