Wiki Targeted (Entertainment)
Play Sound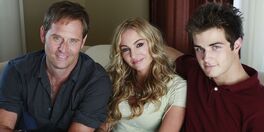 Angie Bolen (Formally Known as Angela de Luca) is one of the supporting protagonists of Desperate Housewives during season six, and thus her family is central to the series and its stories.
Family members
The Bolen family is one of the central families on Desperate Housewives. They reside at 4352 Wisteria Lane.
Immediate family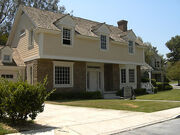 Angie Bolen - Former eco-terrorist who got embroiled with a dangerous guy, and eventually escaped from him alongside her husband Nick and her son Danny. Angie is formally known as Angela de Luca.
Dominic "Nick" Bolen - Angie's husband, Nick was an FBI agent before he gave up on his life to run away with Angie and Danny. Despite not being Danny's biological father, he's raised Danny since birth and is legally his father.
Danny Bolen - Angie's son, a peculiar teenager who fell for the same girl that slept with his "father". Danny is the biological son of Patrick Logan and was accused of strangling Julie Mayer. Danny eventually starts dating Ana Solis. His former name is Tyler.
Extended family
Rose de Luca - Angie's mother, who lives in New York City and who had gone for 18 years without seeing her daughter.
Grandma Bombelli - Angie's grandmother, who was an excellent cook.
Patrick Logan - Angie's ex-boyfriend, a psychotic eco-terrorist who fathered Danny/Tyler and who tried to hunt down Angie for years to get revenge.
Note: Susan's family and Gabrielle's family intertwine with Angie's.
Angie's family
Immediate Family
Extended Family
Community content is available under
CC-BY-SA
unless otherwise noted.