Audrey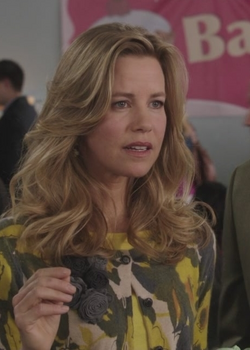 Audrey was the wife of Greg, one of the men Bree slept with.
Story
Bree is handing out slices of her dessert. She calls out for the next person, and is shocked to see Greg (one of her one night stands). Clearly agitated, Greg asks what she's doing here. Bree asks Greg if he's a member of the church because she's never seen him there before. He tells her he just joined and then tries to leave. Bree stops him and offers him some strawberry tart, but he tries to leave again. Bree stops him once more, but this time, a woman notices and approaches them. The woman over hears Bree invite Greg to her house, and she's mortified. She asks who Bree is, so he explains she comes to the church. The woman, Audrey, says it doesn't sound like they met in church, so Bree asks why she cares how they met. Audrey tells Bree she's Greg's wife, shocking Bree in a strange way. Audrey complains to Greg how when he's supposedly doing late shifts at the office, he's actually picking up "trash" from bars. Offended, Bree says she doesn't like her accusations. Audrey loudly says she doesn't like Bree sleeping with her husband. Reverend Sikes once again tries to make Bree leave, she asks why she's being kicked out because Audrey is making a scene… and a dry batch of cupcakes. Audrey thanks Bree but says she doesn't want baking tips from the "town whore". Karen tells Bree not to worry as Audrey doesn't know who she really is, but Bree says she does. Bree announces to everyone at the sale that she knows they're anxious to dig into the juicy gossip she's provided and that she needs a drink. As she leaves, she "tuts" Greg for his adultery. ("What's the Good of Being Good?")
Community content is available under
CC-BY-SA
unless otherwise noted.