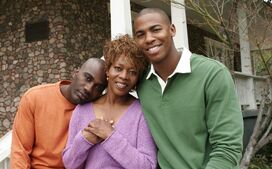 Betty Applewhit' is one of the main protagonists of Desperate Housewives during season two, and thus her family is central to the series and its stories.
Family members
The Applewhite family was the focus of the season two mystery. They resided at 4351 Wisteria Lane from the end of season one throughout all of season two.
Betty Applewhite - A gifted concert pianist, as well as a devoted mother of two, Betty was the center

character of the seasons' mystery.
Matthew Applewhite - Betty's (and possibly Virgil's) son, the actual culprit of murdering Melanie Foster; he became romantically involved with Danielle Van de Kamp until he was shot and killed with a police chipper.
Caleb Applewhite - Betty's (and possibly Virgil's) mentally challenged son. His own brother framed him for the murder of Melanie Foster, which resulted in being chained in a basement for nearly a year.
Virgil Applewhite - Betty's unseen possibly deceased,possibly ex-husband. Virgil might not even be real, but Matthew mentioned once that he was deceased. Betty once mentioned that he was abusive and killed her third child.
Possible Third Child - Betty told a theropist that she was having nightmares about how her ex-husband killed her third child because he was beating him when he spilt grape juice on a rug. Betty might have been lying in order to get drugs for Caleb, but it was never confirmed that she was lying.
Others
Melanie Foster - Matthew's ex-girlfriend who he brudally murdered, and framed his brother for doing. Before Melanie was killed, Caleb attacked her and she was going to have him arrested and possibly put down which resulted in Matthew's act of violence.
Community content is available under
CC-BY-SA
unless otherwise noted.