Establishment
Juvenile Rehabilitation Camp
Camp Hennessey teaches kids respect for authority and boundaries in a summer camp-like atmosphere

Bree Van de Kamp
Camp Hennessey
is a juvenile rehabilitation camp located in Fairview where
Andrew Van de Kamp
was sent during
seasons one
and
two
. It is first mentioned in the season one episode "
There Won't Be Trumpets
".
Andrew first spent time here after experiencing shockingly rude and dangerous behaviour in season one . He was expelled from his school for drug abuse and was continuously rude to his mother Bree, at one point kicking her into a wall. After his behaviour got out of hand Bree managed to convince a reluctant Rex to send him to the camp for rehabilitation. Officials from the camp were called during the night and were forced to drag Andrew out of his room. This betrayal on Bree's part merited her a disgusted look from her son.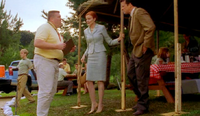 The Van de Kamps visit the Camp Hennessey.
Bree and Rex later visited their son at the camp. When arriving there, Bree was shocked to discover that Andrew had personally requested that only his father speak with him. Believing that her son had grown to hate her, Bree stormed into the meeting room and delivered a big speech on how she was a great mother and was only looking out for her son's best interests. After her rant was over, she was calmly told by Rex that the only reason Andrew had requested to speak with him was because he was beginning to tink that he might be gay. Bree left the room in a shocked daze. Because of this reason, Andrew was taken out the "All boys" camp.
However, later in Season 2, Andrew was sent here again after attacking his mothers new boyfriend, George Williams, at a swim meet when witnessing him attempt to kiss her so soon after his father's death. This was the last time Andrew was sent to the camp, being released a few episodes later. His uncontrollable behaviour was later dealt with personally by Bree, dumping her son on the side of the road.
Community content is available under
CC-BY-SA
unless otherwise noted.