Craig Lynwood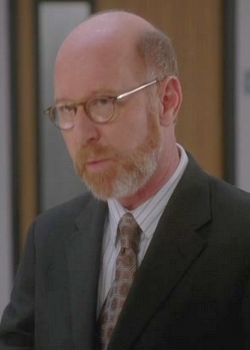 Profession
Transplant coordinator
Season(s)
S1
-
S2
-
S3
-
S4
-
S5
-
S6
-
S7
-
S8
Craig Lynwood is the transplant coordinator working at the Fairview Memorial Hospital. He worked on Susan Delfino's case, and was portrayed by Aaron Lustig.
Season 7
Craig is the one who warns Susan that she is receiving a kidney transplant from her old high school colleague, Monroe Carter. However, when that falls through, Bree enlists Mr. Lynwood to convince her neighbors to submit to compatibility tests to help out Susan, by explaining the pros and dismissing myths, and he's also the one that warns Bree that she is a possible match, as is Beth Young. Beth ultimately commits suicide, with her final wish being that her kidney go to Susan, and Craig warns the latter that she has a kidney, and is shocked to see Susan and her friends celebrating when their neighbor has just died. He didn't realize no one on the street had heard of Beth's suicide yet, so he has to be the one to break the news to them.
Community content is available under
CC-BY-SA
unless otherwise noted.