Wiki Targeted (Entertainment)
Play Sound
Here at Oakridge, I am the law.
Dana was the rude and obnoxious PTA president of Oakridge School, who had a run in with both Susan and Gabrielle throughout her time in the role.
Biography
After her brief job as an internet 'model' and subsequent firing as a teacher at the school, Susan attends a PTA meeting to attempt to help out an "open-house" evening. She is bullied by both Dana and other members before being put in charge of streamers. On the day of the open house, Susan goes to drop off the streamers. Dana notices the cookies in the car and thanks her profusely for bringing them, explaining that two of the mums in charge of refreshments flaked out on her. Susan pretends that she was just trying to play it safe to avoid later being sorry and hands them over. She is thrilled when Dana says they should make some time to talk to Hobson about Susan being hired again. ("Then I Really Got Scared")
Gabrielle, frustrated with the drop-off system at Juanita's school, gets her pass taken away by Dana. Thus, she must park at the "B Lot" and walk Juanita to class. She finds out from other moms that she may never get her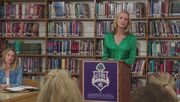 pass back, and they plot to stand up against Dana at the PTA meeting. But when Dana bribes the other moms by giving them back their passes, Gaby is left to fend for herself, resulting in her being sent to the "C Lot." Determined to get revenge on Dana, she drives through the drop-off zone without a pass, crushing several pylons. Though as she watches Juanita walk off, she accidentally hits Dana with her car.
As she visits Dana in the hospital, who has a broken back, she asks Gaby to assume her role as supervisor while she recovers. Gaby, who is not up for that role, kindly turns it down. However, Dana threatens to press charges against Gaby unless she assumes her supervising role. Desperate, Gaby agrees to become supervisor. ("School of Hard Knocks")
Community content is available under
CC-BY-SA
unless otherwise noted.