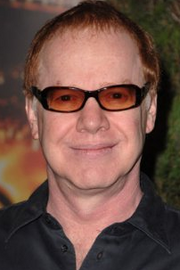 Danny Elfman
is a music composer.
Life
Elfman was born on May 29, 1953 in Los Angeles, California. During the 1970s, he and his older brother Richard started a musical troupe while they were in Paris. It was named "Magic Knights of Oingo-Boingo". The name of the troupe changed many times before it finally became "Oingo-Boingo". Tim Burton, who was a fan of "Oingo-Boingo" at the time, befriended Elfman. Together they created the Burton-Elfman partnership that started with Elfman compising for "Pee-wee's Big Adventure". The Burton-Elfman collaboration continued with the hit "Batman" movies. Elfman has been called "Hollywood's Hottest Film Composer".
"I get drawn to things that don't make any sense, but I learned early on not to resist that." ~Danny Elfman
Career
Elfman has composed music for many television series as well as theatrical cinema such as Spider-Man and Alice in Wonderland.
Desperate Housewives
Elfman has won awards for his work on Desperate Housewives. Elfman has won
Three BMI Film & TV Awards:
Emmy Award (for Outstanding Main Title Theme Music in 2005)
Songs
External links
Community content is available under
CC-BY-SA
unless otherwise noted.