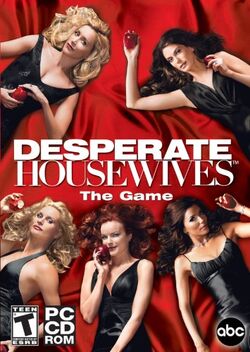 Desperate Housewives: The Game is a PC game based around the show Desperate Housewives. The player takes the part of a housewife with amnesia who has recently moved with her husband and son to Wisteria Lane. The plot takes place over 12 episodes. The game features a script by Desperate Housewives writer Scott Sanford Tobis and voice acting by Brenda Strong.
Plot
The game begins when a family moves to Wisteria Lane: a successful doctor working at the Fairview Medical Center, a wife with a forgotten past after a jogging accident and their son. Edie Britt first introduces the wife to Wisteria Lane and visits Bree Van de Kamp, who invites her to gossip at her house along with Susan Mayer, Lynette Scavo and Gabrielle Solis. A pair of brothers then visit the player's house: Daniel Fox, a famous designer and his twin brother Frank Fox, who installs an Internet service in the player's computer. Your character then progresses through episodes, completing tasks that range from gardening and cooking for your family, to discovering the secrets of the neighborhood.
The new wife must battle off a love rival to her husband as his secretary, Jackie Marlen, stops at no costs to get what she wants as well as cranky neighbor, Etta Davenport. Not only this but she must deal with the antics of her unruly son and the people around it. We also find, the new residents isn't a nice as it seems when a private investigator, Erik Larsen, shows up in town alongside a shady businessman, Vincent Corsetty, who seems to have ulterior motives. In the end, secrets are aired in public and a desperate decision is made in a hostage situation.
Ending
Desperate Housewives: The Game has four different endings.
The main character shoots everyone.
The main character lives happily ever after with the husband.
The main character lives happily ever after with Erik Larsen.
The main character runs off with Vincent Corsetty.
Community content is available under
CC-BY-SA
unless otherwise noted.