Welcome to Wiksteria Lane ...a collaborative website for the ABC hit dramedy Desperate Housewives.

Approximately thirteen years ago, on a sunny day, in the loveliest of suburbs, in a town called Fairview, housewife Mary Alice Young decided to end it all. Now she takes us into the lives of her friends, family and neighbors, introducing us to their relationships, their problems, and their secrets...

Check out the upcoming ABC series, Grand Hotel, executive produced by Eva Longoria.
Featured Character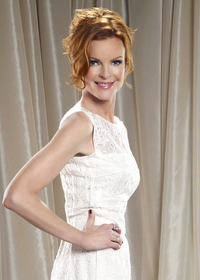 Bree Van de Kamp is one of the main protagonists and titular characters of Desperate Housewives. A neurotic and perfectionist homemaker, Bree's strong resolve and proper demeanor have been her greatest strengths and the source of nearly all her personal trouble. Coined as "Martha Stewart-on-steroids", she spent years working to become the perfect wife and mother and her attempt to maintain this plastic existence, despite various obstacles such as widowhood, divorce, and alcoholism hindering her, has become her greatest asset.
Featured Episode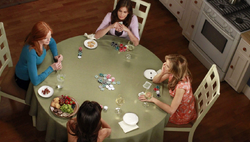 The lives of the Wisteria Lane residents are to be forever changed in the emotional series finale, as Renee's wedding approaches, and Gabrielle receives a big promotion that prompts her to be more neglectful towards Carlos, thus mirroring the early years of their marriage - with reversed roles. Lynette is too offered a big job opportunity herself when old friend Katherine Mayfair returns from France - an opportunity that could end Lynette's chances of reconciling with Tom. Meanwhile, Julie goes into labor at the most inopportune time, Bree tries to distance herself from Trip Weston, and Mrs. McCluskey prepares to move to a different neighborhood in the great beyond.
Watch on Hulu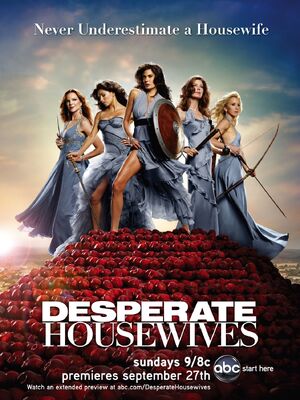 DH Quotes

What a tasteful solution. You must write an etiquette book for adulturers.

Orson Hodge
Refresh for another quote
Did You Know..?

Marcia Cross originally tried for the part of Mary Alice Young, but was cast as Bree Van De Kamp. Nicollette Sheridan tried for the part of Bree Van De Kamp, but was cast as Edie Britt.
Marc Cherry conceived the idea for the series while watching coverage of the Andrea Yates murder trials, and was fascinated by how women lead lives of quiet desperation.
CBS, NBC, Fox, HBO, Showtime, and Lifetime, all turned down Marc Cherry's original script for the show. After several rewrites, ABC finally picked it up.
Affiliations