Emcee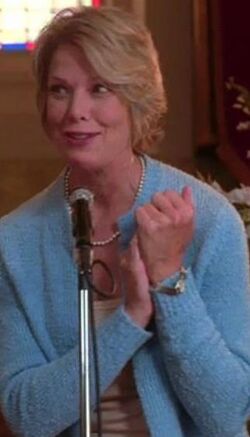 Season(s)
S1
-
S2
-
S3
-
S4
-
S5
-
S6
-
S7
-
S8
The emcee is a woman who served as the presenter of a church jamboree themed around "family", in which Julie Mayer participated.
Story
At church, we see three young women dressed in yellow outfits with green and purple stripes bowing at the altar. The emcee says "Can those Cicarelli sisters dance or what? Wow, look out, Broadway!" She goes on about how they will juice and cookies set up in the basement after they're done there, and they want to see everyone there.
The emcee later looks confused as Susan Mayer, Julie's mom, apologizes to her rival, Edie Britt, for pushing her out from her daughter's recital. However, the roles are soon reversed, and Edie steps in for Susan, and is introduced by the emcee as Julie's aunt.
Community content is available under
CC-BY-SA
unless otherwise noted.