Yasemin (Susan) lived on the first floor of this building.(approx.2000-2019)
Current Residents:Not mentioned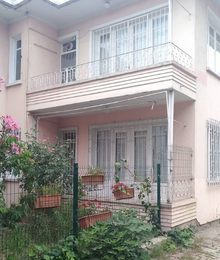 Former Residents:Yasemin Anday Kalyoncu (2000-2019)
Gamze Ekinci (2000-2013)
Kenan Ekinci (2000-2010)
Sinan Kalyoncu (2013-2015) (2019)
Çınar Hakkı Kalyoncu (2013-2019)
Nermin Acar (Seçkinoğlu) (2013,for 2 weeks)
Altay Acar (2013,for 2 weeks)
Emel Soylu (Bingöl) (2013,for a few weeks)
About Building
This two-story apartment block is located in Küçükyalı,Gül Çıkmazı (Gülçiçek since 2015).It has middle-sized gardens on left and right sides.It has a side which faces the street directly and it's easy to see almost the whole street from the four-paned window on left.Lot of this building also has another entrance gate on Cumhuriyet Street.It was painted to pale pink-intense pink,with white-slim sills around windows.The flat on the first floor which was belonged to Yasemin was set on fire by Emel on 34th episode.On 2nd season,the flat was appeared with a new look and new middle-worth furniture.
First Floor:
First floor includes one flat.The flat is built on an area approximately 100 metersquares.
Also Includes:
Two bedrooms
One bathroom
Open-large living/dining area
A kitchen with U-shaped counters
A storage cabin in the garden (common)
One porch that leads to garden
One space for built-in wardrobe
Laminate Flooring
Panel Doors (White)
Wallpaper
PVC and wooden windows
Apartment corridor
Second Floor
Second floor only has one more balcony on the kitchen side.Interior features are not known,because this flat was mentioned just a few times and the interior of flat has never shown.
Rare Details
This building is not a shell like the ones in original version.It is an occupied apartment block that belongs to someone.But the floor plan in TV and original plan of the flats weren't same.A soundstage was built in Beykoz as the interior,which does not suit the real building because of some skipped details.
Some buildings in the street are demolished after the final episode probably because of urban transformation in the region street is located in.But this building is standing still in the street.
Original building is shaped (from top) like 'straight thunder'.
Original building includes two one-story flats and one two-story flat.
Community content is available under
CC-BY-SA
unless otherwise noted.