Helen Rowland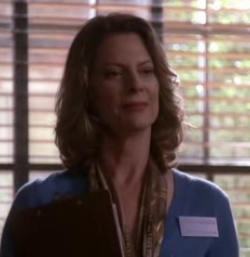 Profession
Adoption Agency Worker
Helen Rowland is portrayed by Kathryn Harrold.
Biography
Helen Rowland is the mother of John Rowland. Helen first appears in Ah, But Underneath when she finds out that a woman of Wisteria Lane is having an affair with her son, John. She suspects it is Susan after seeing them together, and slaps her and rips her dress at Gabrielle's fashion show. Susan knows Gabrielle is the true person who slept with John which ruptures their friendship throughout the episode. Gabrielle eventually confesses to Helen, shortly afterwards the police show up, but they came for Carlos, not Gabrielle. Susan holds Gabrielle in her arms, consoling her as Gabrielle wept over what she has lost. Helen appears again, this time together with her husband Bob, to make Gabrielle send John to college and stop his gardening business. Gabrielle tries to stop him but John only proposes to her with his grandmother's engagement ring. Gabrielle refuses and convinces John to not be with her. John rebels anyway and keeps going at his gardening business. When Gabrielle fails to help, Helen still threatens to reveal her secret. Helen gets her revenge on the Solises by forbidding them to adopt a baby because she works at the adoption agency where Carlos and Gabrielle try to adopt a baby, but are unsuccessful. She also makes sure that the other adoption agencies in the Fairview area know about the Solis's turbulant past.
Community content is available under
CC-BY-SA
unless otherwise noted.