Jane Hainsworth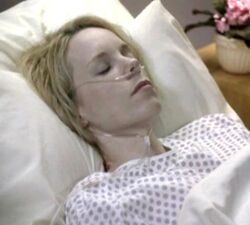 Family members
Jeff - Father
Renee - Mother
Ian Hainsworth
- Widower
Dahlia Hainsworth - Mother-in-law
Graham Hainsworth - Father-in-law
Nigel Hainsworth - Brother-in-law
Season(s)
S1
-
S2
-
S3
-
S4
-
S5
-
S6
-
S7
-
S8
Jane Hainsworth was the wife of Ian Hainsworth. She died while in a coma.
Biography
Season 3
Jane was Ian's wife, who is in a coma after falling off a horse. She is in the coma ward where Ian meets Susan. She later dies without regaining consciousness. Despite being romantically involved with her husband, Susan visits and helps care for Jane at the hospital. Eventually she died in her coma due to a pressure drop.
Community content is available under
CC-BY-SA
unless otherwise noted.