John Barrowman
Role:
Season(s):
Vital Statistics
Date of birth:

11 March 1967

Birthplace:

Mount Vernon, Glasgow, Scotland, UK

IMDb
IMDb page:
John Barrowman played Patrick Logan, a charming but dangerous man, during season 6 of Desperate Housewives.
Biography
Born in Glasgow, Scotland, and raised in Joliet, Illinois. He returned to the UK, for a 6 month Shakespeare semester with the United States International University of San Diego, but left to star in the musical production of "Anything Goes," with Elaine Page. He went on to star in "Miss Saigon," "Matador," "Rope," and "Hair" at London's West End. Barrowman has homes in London and Cardiff, Wales.
Doctor Who / Torchwood
A significant part of Barrowman's career is his role in popular UK sci-fi drama Doctor Who, as 51st Century time agent Captain Jack Harkness, from which he also got his own spin-off show titled Torchwood . His first appearance as Harkness was in the two-part story "The Empty Child"/"The Doctor Dances", going on to appear in the next three episodes, "Boom Town", "Bad Wolf" and "The Parting of the Ways". The character of Captain Jack Harkness became so popular, he was given his own show. Torchwood, a Doctor 'Who spin-off series featuring a team of alien hunters based in modern day Cardiff, premiered in 2006.
Ken TuckerTorchwood as "dashing" and "celestially promiscuous", and "like Tom Cruise with suspenders, but minus the Scientology". On the show, Harkness "tracks down—and occasionally beds—ETs with the help of his quartet of bedazzled groupies—slash—Experts in Their Fields: One's a doctor, one's a cop, one's a scientist, and one... makes coffee piping hot. It's like the Justice League of Extended-Pinkie Nerds."[44] Barrowman continued to guest star in Doctor Who
describes Barrowman's role on
in 2007, appearing in "Utopia", "The Sound of Drums", and "Last of the Time Lords". He participated in a Doctor Who special on the BBC's The Weakest Link.[45] In 2008, Barrowman appeared in the two-part 2008 series finale, "The Stolen Earth"/"Journey's End" and reprised the role of Captain Jack Harkness in the "Doctor Who: Tonight's the Night" special.[46] In 2010,
Barrowman returned to Doctor Who with a cameo in The End Of Time along with other previous stars.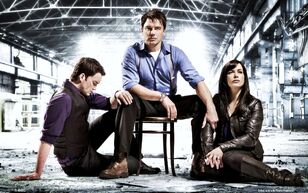 Series 3 of Torchwood was broadcast in July 2009 as a miniseries of five episodes called Children of Earth.[47] Filming of Series 4 called Torchwood: Miracle Day began on January 11, 2011 primarily in Los Angeles, and in and around Cardiff, Wales. The first episode of Torchwood: Miracle Day aired on Starz Network in the USA on July 8, 2011 and was broadcast on BBC One in the UK on July 14, 2011.[48][49] Both Doctor Who and Torchwood have become enormously popular in the United States on the BBC America network (Torchwood varying on different networks), both breaking audience rating records.[50]
Filmography
Theatre credits
Title
Duration
Role
Venue(s)
Anything Goes
1989
Billy Crocker
Prince Edward Theatre, London
Miss Saigon
1990–91
Chris (alternate)
Theatre Royal, Drury Lane, London
Matador
1991
Domingo Hernandez
Queen's Theatre, London
The Phantom of the Opera
1992
Raoul
Her Majesty's Theatre, London
Rope
1993
Wyndham Brandon
Minerva Theatre, Chichester
Hair
1993
Claude
The Old Vic, London
Miss Saigon
1993–94
Chris
Theatre Royal, Drury Lane, London
Sunset Boulevard
1994
Joe Gillis
Adelphi Theatre, London
Sunset Boulevard
1996
Joe Gillis
Minskoff Theatre, New York
Red Red Rose
1996
Robert Burns
Concert Hall, Aarhus, Denmark
Aspects of Love
1997
Alex
Olympia Theatre, Dublin (6 weeks)
Cork Opera House, Cork (1 week)
The Fix
1997
Cal Chandler
Donmar Warehouse, London
Evita
1997
Che
Oslo Spektrum, Oslo, Norway
Hey, Mr. Producer!
1998
Cal Chandler
Lyceum Theatre, London
Putting It Together
1998
The Younger Man
Mark Taper Forum, Los Angeles
Beauty and the Beast
1999
The Beast / The Prince
Dominion Theatre, London
Putting It Together
1999–2000
The Younger Man
Ethel Barrymore Theatre, New York
Company
2002
Bobby
Kennedy Center, Washington, DC
Anything Goes
2002–03
Billy Crocker
National Theatre, London
Love's Labour's Lost
2003
Dumaine
National Theatre, London
The Beautiful and Damned
2003
F. Scott Fitzgerald
Yvonne Arnaud Theatre, Guildford
Anything Goes
2003–04
Billy Crocker
Theatre Royal, Drury Lane, London
Chicago
2004
Billy Flynn
Adelphi Theatre, London
A Few Good Men
2005
Lt Jack Ross
Theatre Royal Haymarket, London
Cinderella
2005–06
Prince Charming
New Wimbledon Theatre, London
Jack and the Beanstalk
2006–07
Jack
New Theatre, Cardiff
Aladdin
2007–08
Aladdin
Hippodrome Theatre, Birmingham
Robin Hood: The Pantomime Adventure
2008–09
Robin Hood
Hippodrome Theatre, Birmingham
La Cage aux Folles
2009
Albin / Zaza
Playhouse Theatre, London
Robin Hood: The Pantomime Adventure
2009–10
Robin Hood
New Theatre, Cardiff
Aladdin
2010–11
Aladdin
Clyde Auditorium, Glasgow
Robinson Crusoe and the Caribbean Pirates
2011–12
Robinson Crusoe
Clyde Auditorium, SECC, Glasgow
References
Community content is available under
CC-BY-SA
unless otherwise noted.