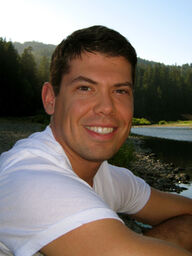 Joshua Ray Senter
is an American screenwriter.
Career
Senter's first Hollywood ambition was to become a Disney animator. After he sent his portfolio of drawings to Disney at the age of seventeen, the company called to tell him they were impressed but were not currently hiring, and he should resubmit in another six months. During those six months, he decided to proceeded into film directing, his other passion, and sent a collection of homemade films to Art Center College of Design in Pasadena, California. He was one of fifteen film students selected that year.
This opened doors to opportunities which lent a hand in writing for his first job, a lesbian drama called The L Word, one episode was written by him for the series.
Desperate Housewives
Within a year after leaving The L Word, Senter returned to television when he was hired as a staff writer on the Desperate Housewives. He has since written six episodes spanning across the series' first, second and third seasons. He was initially hired as a staff writer, then made a story editor in the show's second season and promoted to an executive story editor in the third season. Much of the stories of Bree, Lynette and Mary Alice were written by him, which a lot was drawn from the inspiration of his mother.
Despite "Joshua Senter" being his full name, he is credited as "Josh Senter" when used in the credits.
In 2007, Senter was nominated for "Episodic Comedy" by WGA Awards for Don't Look at Me.
Season One
Season Two
Season Three
External links
Community content is available under
CC-BY-SA
unless otherwise noted.