Lee Meriwether is an American actress who portrayed the role of Doris on Desperate Housewives.
Early life
Lee Meriwether was born in Los Angeles, California, to Claudius Gregg Meriwether (October 13, 1904, Oregon – July 15, 1954, San Francisco, California) and Ethel Eve Mulligan (March 25, 1903, Oregon – May 21, 1996, Los Angeles, California). She has one brother, Don Brett Meriwether, born May 14, 1938, in Los Angeles. She grew up in San Francisco after the family moved there from Phoenix, Arizona. She attended George Washington High School, where one of her classmates was Johnny Mathis. She later attended San Francisco City College, where one of her classmates was fellow actor [[wikipedia:Bill Bixby|Bill Bixby9].
After winning "Miss San Francisco", Meriwether won "Miss California", then "Miss America", with her recital of a John Millington Synge monologue. After her reign, she joined The Today Show. An August 1, 1956 international news wire photo of Meriwether and Joe DiMaggio announced their engagement. According to DiMaggio biographer Richard Ben Cramer, it was a rumor started by Walter Winchell.
Career
Meriwether's career has been active since the 1950s. She started out as a "Today" girl on NBC's The Today Show, and her feature film debut came in the movie 4D Man.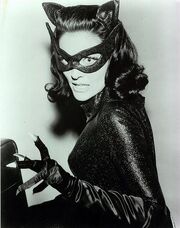 In 1966, she portrayed the role of Catwoman in the Batman film, a role she is still perhaps best known for to this day, as she is constantly referred to as one of Catwoman's many notable portrayers, along the likes of Eartha Kitt, Julie Newmar, Michelle Pfeiffer and Sharon Stone.
Meriwether is also very widely known for co-starring in the 1970s TV show Barnaby Jones, and for portraying the role of Lily Munster on The Munsters Today.
In the 1990s, Meriwther replaced Mary Ficket on the ABC soap opera All My Children, and was a featured recurring player for many years.
Nowadays, Meriwether continues to work on stage, television, game voice-overs, and feature films.
Community content is available under
CC-BY-SA
unless otherwise noted.