Mrs. Mulberry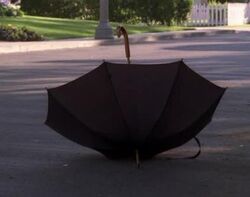 Origin
Parker's imagination, Fairview, USA
Profession
Nanny
Parker's imaginary friend
Mrs. Mulberry is the imaginary friend of Parker Scavo, who imagined her as a substiute to Lynette, who had not been at home due to her new job.
Story
When Parker starts using Mrs. Mulberry as a substitute mother to Lynette, Lynette gets jealous. One day, Lynette takes Mrs. Mulberry from Parker's hands while he is sleeping and she puts her in the trash. The next day when she is put in the garbage truck, she somehow falls out and survives. Unfortunately, she is then run over by a passing car. ("My Heart Belongs to Daddy")
Community content is available under
CC-BY-SA
unless otherwise noted.