Police Captain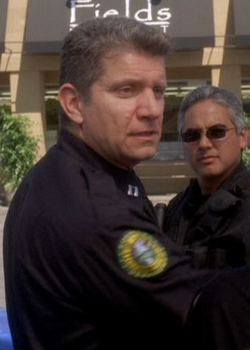 Profession
Police Officer
Season(s)
S1
-
S2
-
S3
-
S4
-
S5
-
S6
-
S7
-
S8
The Police Captain is an unnamed man who was on duty at the supermarket where Carolyn Bigsby took a group of people hostage.
Story
In the supermarket's parking lot, Susan steps through the barricade blocking off an area. She then approaches a policeman and says she wants to switch places with one of the hostages. The police man mocks her saying "Oh, you mean our hostage exchange programme". Susan tells him he doesn't need to be mean as her daughter is being held hostage. The police officer then assures her that they're doing everything they can to get her out safely before asking her to go back behind the barricade. As Susan heads back, she sees an unattended megaphone. She sneaks towards it and quietly takes it. She then hides behind a lorry near the shop and starts to speak. She gets Carolyn's attention and tells her it's Susan. As she talks to Carolyn, the police start to search for Susan to stop her. Susan then says she has a proposition; let Julie go and take her instead. Susan begs her to do so as she'd be a model hostage. However, Susan is found and then the megaphone is taken off her and she's escorted out the restricted area. ("Bang")
Community content is available under
CC-BY-SA
unless otherwise noted.