Renee Perry
(also known as
Renee Faulkner
) is one of the supporting protagonists of
Desperate Housewives
, and thus her family is central to the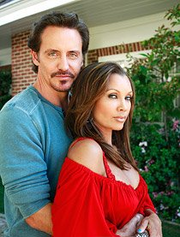 series and its stories.
Family members
Renee's family is one of the central families on Desperate Housewives, and is notable for the fact that Renee is the only member to actually live on the lane. She resides at 4362 Wisteria Lane.
Immediate family
Renee Perry - A narcissistic prima-donna and Lynette's former college roommate, Renee had a one-weekend stand with Tom Scavo and wound up marrying a wealthy pro-athlete, who ultimately cheated on her.
Ben Faulkner - Renee's husband, an Australian, who is Real Estate Developer. He discovered the true about Alejandro.
Doug Perry - Renee's ex-husband, a Yankee, who cheated on her with an

assistant named Tina, to whom he proposed after a while.
Extended family
Renee's mother - Renee's unseen and unnamed mother who committed suicide when Renee was a child; her decision to give up on life lead Renee to decide she chose life over all things else.
Renee's Father - Renee's unseen and unnamed father. Possibly Deceased, widow of 1 and father of 2
Renee's sister - Renee's unseen and unnamed sister. They seem really close, because she was the first to know Renee's engagement with Ben.
Tina Perry - Doug's new wife, and the assistant he cheated on Renee with.
Note: Lynette's family intertwines with Renee's.
Renee's family
Immediate Family
Extended Family
Community content is available under
CC-BY-SA
unless otherwise noted.