Reverend Lawson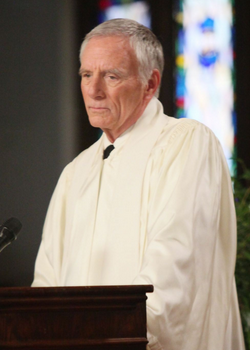 Reverend Lawson was the reverend who oversaw the funeral service for Mike Delfino in "Women and Death."
Story
Julie Mayer is attempting to help her depressed mother choose an outfit for the funeral. The doorbell rings and Julie welcomes Reverend Lawson into the house. He attempts to hand over a draft of the plan for the service but Susan dismisses it, concluding that whatever he's drafted will be fine. Lawson asks if Susan would like to say anything at the service and Susan angrily replies, "What? Like, I wish someone hadn't murdered my husband?".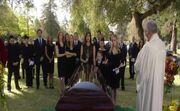 Julie interrupts and reminds Susan that Reverend Lawson is only trying to help. Susan apologies to Lawson for snapping and explains that she doesn't know what to say that would be enough to sum up her husband. As Susan breaks down in tears, Reverend Lawson reassures her that everything is going to be okay. "Please, Reverend", Susan sobs, "If there is one thing I know for sure at this moment it's that nothing is ever going to be okay again."
At the funeral service, Lawson is interrupted by Susan, who finally decides to speak out about her wondrous husband. Later, at the cemetery, Lawson concludes the burial, as he recites the words of total finality.
Gallery
Gallery of photographic stills released to promote the episode.
Community content is available under
CC-BY-SA
unless otherwise noted.