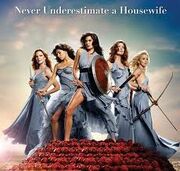 She Wolf is a song by Shakira, that was used in the promo for Season 6. The Slogan was Never Underestimate a Housewife in which the women wore fantasy style gear with weapons.
Season 6 Promo
The promo switches between the Housewives in which apples fall around them. Gabby is shown on a rock in the middle of the lake with a sword that slices an apple in half. She does a few poses then Susan is shown on a Bridge with her shield, Bree has a dagger, Katherine has a mace, and Lynette fires an arrow into the "O" in Housewife. All the Housewives are then shown standing on a Mountain of apples as shown in the picture.
Community content is available under
CC-BY-SA
unless otherwise noted.