Shuttle Driver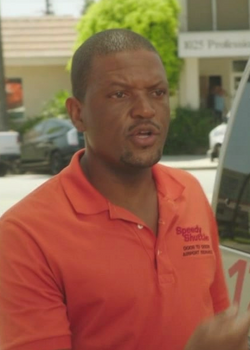 Profession
Shuttle Driver
The shuttle driver is an unnamed man who drove the shuttle that was to bring Father Dugan to the airport in the eighth season premiere.
Story
Father Dugan gives his suitcase to the driver of the airport shuttle, who's putting the luggage in the back of the van. He then tells Gabrielle Solis (who was there to convince the priest to speak to her husband about the murder of her stepfather) God waits till the heart is ready, but the airlines are a little stricter, and he's not going overseas in the middle seat. He then enters the van and the shuttle driver asks Gabrielle if she'll be getting on too. She says she is, but she couldn't manage her bag. She tells the man to be a dear and grab it for her, and he gets back into the church's area. Gaby then gets into the shuttle, and Father Dugan asks her what she's doing. She buckles up and tells him she's taking him to the airport, with one quick detour. She starts the engine and drives away, with the shuttle driver getting outside and running after the van, yelling for it to stop. ("Secrets That I Never Want to Know")
Community content is available under
CC-BY-SA
unless otherwise noted.