Teen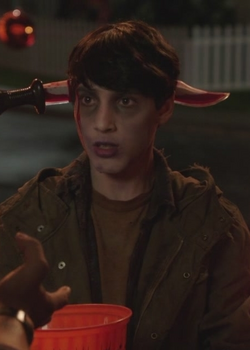 Season(s)
S1
-
S2
-
S3
-
S4
-
S5
-
S6
-
S7
-
S8
This Teen "trick-or-treated" at Carlos's house on Halloween.
Story
At the Solis house, a teenage boy rings the bell. Carlos answers and the boy says "trick or treat". Carlos just stares at the boy with horror as he is haunted by a vision of Alejandro standing at the door with pale white skin and fresh blood on his head. Confused, the teenage boy says "trick or treat" again to the petrified Carlos. And with that, Carlos' horrifying vision disappears and he comes back to reality, but he's still frozen with fear. The boy says that now is the part where he gives candy, so Carlos just gives him the whole bowl and then he slowly closes the door, still with the terrified face. Carlos then enters the kitchen, opens a small bag and takes out a bottle of alcohol. He then starts to drink it rapidly from the bottle. ("Witch's Lament")
Community content is available under
CC-BY-SA
unless otherwise noted.