There is a coffee shop in Fairview, it's known as a place you can read your morning paper. Where you can meet your friends. Where you can bump into your neighbours, whether you want to... or not.

Mary Alice Young
The Coffee Cup is a bakery and cafe located in Fairview.
Story
Julie Mayer and Angie Bolen had a brief encounter here, in which Julie tried to make small talk with Angie, resulting in Angie swiftly telling Julie that she knew of her affair with her husband. Later, Angie spots Nick flirting with the young barrista. Angie confronts him, telling him that she wants him to be the man who saved his life, not the one who destroyed it. The next night, Nick is seen alone here whilst Emily Portsmith tries to close up. After Nick leaves, a masked figure enters The Coffee Cup and strangles Emily, leaving her for dead in the middle of the floor. ("The Coffee Cup")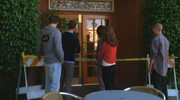 Emily's body is discovered and causes a stir within the community, as Emily was known as a happy and lively girl. Ana, Danny, Julie, Eddie and Porter gather outside The Coffee Cup and discuss the murder. Julie is noticeably taking it hard, as it reinforces the fact that her attacker is still out there. ("Would I Think of Suicide?)
After overhearing Lynette and Susan discussing Julie's pregnancy, Porter phones Julie and Julie tells him to meet her there. However, Susan overhears and follows Julie to find that Porter is the father of Julie's baby. However, Julie then discovers Susan is hiding.
Community content is available under
CC-BY-SA
unless otherwise noted.